I co-direct and curate film programmes for
Video Jam
, an independent event series dedicated to curating, commissioning and presenting moving image with live musical accompaniment. We create events in response to a site or theme, featuring work by artists at all stages in their career and within any field of film and sound.
I founded Video Jam as a grassroots project in 2012 as a BA graduate, and have since worked on over 50 events and projects across the UK and beyond. The nature of our work remains not-for-profit and DIY, operating outside of a regular base or venue. As such, our events tend to occur in unusual and distinctive spaces - which have included a glass atrium, underground vaults and one of the UK's oldest synagogues. We have worked to commission with the Barbican Centre, the Wellcome Collection, FACT (Foundation for Art and Creative Technology), Whitworth Art Gallery and Manchester Museum, and hosted events internationally in cities including New York, Colombo and Beunos Aires.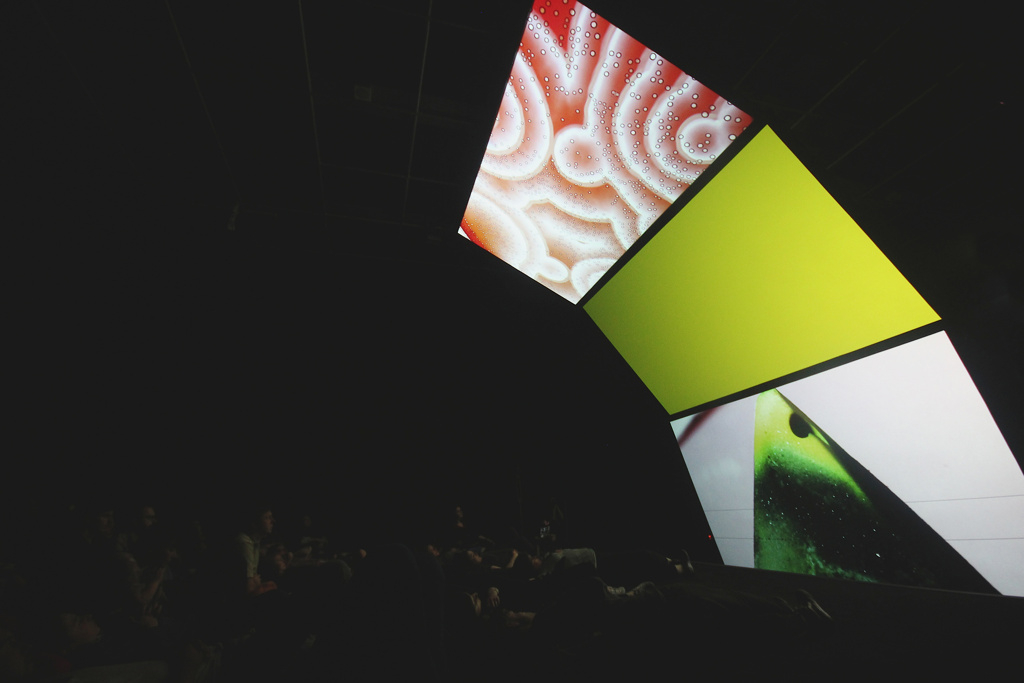 We consistently programmes emerging and mid career artists alongside one another, working across all areas of film and music. Artists and filmmakers we have worked with include Hetain Patel, Soda_Jerk, Webb-Ellis, Jade Montserrat, Victoria Keddie, Simon Faithfull, Maryam Tafakory, Vimukthi Jayasundara, Ephraim Asili and Mitra Saboury. Musicians and sound artists include Ibibio Sound Machine, Dieter Moebius, Sacred Sounds Women's Choir, Chaines, Seaming To, Young Fathers and Micah Gaugh.
---
"Leading audiovisual masterminds." -
Time Out
"An exceptional event." -
Creative Tourist
"Riveting." -
The Quietus
"Video Jam stands alone as a work of art in itself: the series is now a considerable artistic oeuvre."
-
Andrew Anderson, musician and journalist
"An exciting and unpredictable one-off experience." -
Huck magazine
"Wildly successful...a night of seamless programming." -
The Skinny
"Video Jam plays a key role in 'knitting together' the arts landscape in the city through their work with emerging artists, filmmakers and musicians. A great strength of the Video Jam team is their ability to create experiences which appeal on multiple levels to a very wide-ranging audience."
-
Maria Balshaw, Director of Tate galleries
"Video Jam is an intense, hypnotic, and totally immersive experience, as the music takes control and redefines what we see on screen. It is interesting that this combination of silent film and musical score reverts back to early cinema, and yet Video Jam achieves this collaboration in a totally new and unprecidented guise."
- Sinead Nunes, Corridor 8
---
Previous Partners
Abandon Normal Devices
Arts Council England
Barbican Art Centre
BBC Philharmonic, Salford
Blaze Festival
Brighter Sound
Bury Art Museum
Canvas, Ibiza
Colombo Art Biennale, Sri Lanka
Creative Tourist
Dartington Society, Falmouth
European Network of Cultural Centres
FACT (Foundation for Art and Creative Technology), Liverpool
Festival Hyperlocal, Argentina
Flux Factory, NYC
International Anthony Burgess Foundation
Islington Mill, Salford
Jonathan Ruffer Foundation
Knockdown Centre, Brooklyn NY
Manchester Art Gallery, Manchester
Manchester Jewish Museum
Manchester Museum
Manchester School of Art
Museum of Science and Industry
Manchester Science Festival
Northern Film + Media
North West Film Archive
Royal Nothern College of Music
Slip imprint
Sounds from the Other City
Textbook Studio
Tyneside Cinema, Newcastle
University of Falmouth
Wellcome Collection
Wharf Chambers, Leeds
Whitworth Art Gallery, Manchester
Whitworth Young Contemporaries