Contact
Press
Features / Publications

Interruptions: Sounds
Published by The Holden Gallery
Read and listen here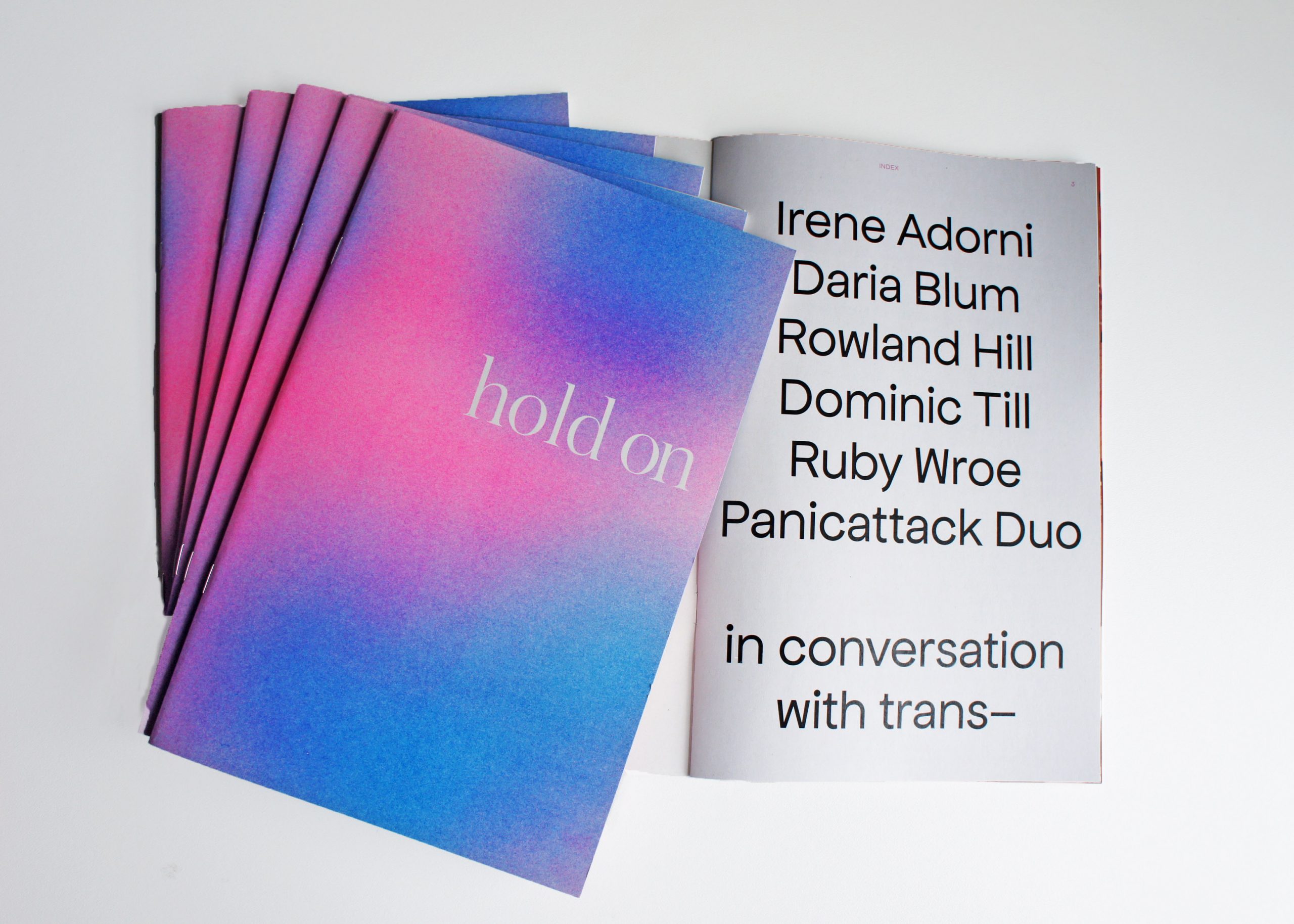 Hold On exhibition publication
View and buy here
Featured artist for Ambit Issue 238
View and buy here
An interview with Rowland Hill
Still Life Issue 4: Ways to Disappear
View and buy from Unbound
I am an artist based in Manchester working primarily across performance and film.

From 2016 - 2018 I studied Fine Art at the Slade School of Fine Art in London, where I received the Clare Winsten Memorial Award. Prior to that I studied English and Drama at the University of Manchester.

My current projects include Interesting Times and Rowland's Leaving which explore the cultural legacies of 1990s Eurodance, and Interjectional Exercises, a series of provocations on speech, gesture and British Sign Language.

I have more than ten years experience of producing, curating, organising and hosting live performance events, film programmes and collaborative projects, which have included Soundings, a listening event at Raven Row, London (2018); Body as Archive, a performance event staged in promenade across the Woburn Centre, London (2018); The Winner Takes it All, a listening hour of work exploring intersections of pop music and national mythologies, curated with Gabriella Hirst for Montez Press Radio, NYC (2020); and Visible Speech, a collaborative performance with members of Manchester Deaf Centre (2017).

From 2012 - 2022 I was the founder and co-director of Video Jam ('leading audiovisual masterminds' - Time Out), an event series dedicated to commissioning and presenting short artist film with live musical accompaniment. I created over 50 unique live events around the UK and internationally, including in Sri Lanka, Argentina, Ibiza and New York City, and worked to commission with numerous major institutions including the British Council, the Barbican Art Centre, BBC Philharmonic and the Wellcome Collection. In 2018 Video Jam received a Manchester Culture Award by public vote.

I have worked, toured and collaborated with composers and musicians, most frequently with Jack Sheen with whom I make live work, most recently Opera, a 4hr performance-installation currently in development. My first major commission, in 2013, was from the University of Manchester to create a 40 minute film to accomany a new soundscape of compositions by Delia Derbyshire, titled To an Independent Listener.

I enjoy performing work by other artists across visual and sound art contexts, which have included an adaptation of The Future Show by Deborah Pearson at PINK gallery (2021); the UK premiere of we shall run by Yvonne Rainer (2018), Seedbed by Vito Acconci (2019), and pieces by La Monte Young and Alison Knowles (2019) at London Contemporary Music Festival; Tape Piece by Maya Verlaak and Andy Ingamells at Archway Sound Symposium, 5 Years Gallery (2019); Solos for Voice by John Cage at John Cage: Maybe Even Beyond the Delta, The Lowry (2019); and Tate and the Lyle-ettes by Rosa Johan-Uddoh at Tate Britain (2018). In 2021 I took part in Anna Barham's reading-aloud group They are all of them themselves and they repeat it and I hear it, in which we collectively read Gertrude Stein's How to Write over Zoom. See documentation of these performances, and more, at my performance archive.

Until 2022 I worked at the Portico Library in Manchester, where I ran the Portico Prize ('the Booker of the North' - the Guardian) a unique prize for Northern literature. While I was there I also commissioned the first series of Re-writing the North, a podcast funded by Arts Council England and produced by Nija Dalal-Small.
---